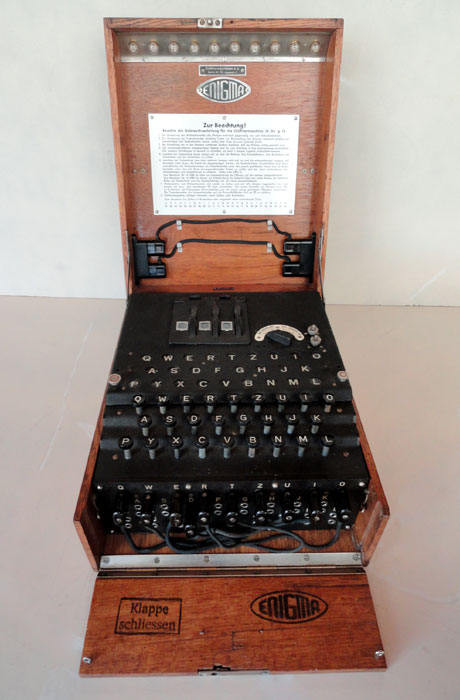 ORIGINAL GERMAN WW-II AIR-FORCE ENIGMA CIPHER MACHINE: (Price upon request)
This is a complete and original WWII German Air Force (Luftwaffe) Enigma in good working condition. The serial number 1898 indicates that it was made during the early years of the war. The three basic rotors, I, II, and III are included. Two more rotors IV and V are available as an option.
Although it is over 60 years old, this Enigma machine is in in good working condition. To allow the buyer to use the Enigma immediately, a battery holder that accepts standard flashlight batteries is included. are a copy of the original manual a book "Inside Enigma", and a CD-ROM called "The Story of the Enigma: History, Technology, and Deciphering".
This machine was used by the German Air Force during WWII but it escaped any major damage and has been stored in an attic in Germany since the end of the war. All of the internal parts have been recently refurbished to original specifications using as many original parts as possible.
It is unusual to find an Enigma that was actually used during WWII in such good condition. It is also very unusual to find an Enigma that was used by the Luftwaffe since Enigmas were mostly used by the Army and Navy. These factors combine to make this an Enigma that is of great importance to historians and collectors.
HISTORICAL NOTE: The Germans destroyed their Enigma machines rather than risk capture as they retreated from Russian and Allied forces in the final years of the war.  In addition, Allied forces were ordered to destroy all German Enigma Machines at the end of WWII. Therefore, they are exceptionally hard to find. The difficulty in finding Enigma machines coupled with an increasing recognition of the historic importance of these machines has led to a steady increase in prices over the years.
SPECIAL NOTE ABOUT PRICES:
Original German Eigmas like this one are extremely rare and hard to find because most of the Enigmas were destroyed during or at the end of the war. Since they are so rare and historic, the prices paid in several recent sales of Enigmas have been widely publicised and consequently, the values of Enigmas have increased dramatically. Most recently a 3-rotor German Army WWII Enigma sold at open auction by Christie's for $ 249,000 US Dollars with the buyer's premium factored in. Other recent sales in the $ 160,000 and 150,000 range were widely reported. These Enigmas were sold in as-is condition with obvious parts missing. All of the Enigmas sold on this website are complete and in working condition although, since the Germans used brass electrical contacts instead of gold, silver, or platinum, perfect operation on every keypress cannot be guaranteed.
Click photos to view larger slideshow: